Loboc River Resort Rooms
Our resort is for anyone who needs a time out to restore inner peace. Each of our 35 native-designed Loboc river accommodations is bound to make you feel at home. These gorgeous huts, which carry a contemporary spin on the interiors, are supported by sturdy stilts and connected by quaint wooden bridges.
Those seeking exclusivity will find it in the overwater lodgings of our Premier Collection, which is located at the new wing of the resort. Meanwhile, our Native Collection is comprised of our classic rooms and suites. 
Each of our Bohol river resort accommodation has the following amenities:
Fully Airconditioned Rooms/Suites
LED TV with cable channels
Open-air veranda with view
In-room safe (by request at the front desk)
10-hectare Resort Trekking Path
24-Hour Frontdesk
Airport / Port Transfer Service
at PHP 1,200 for 3 Persons (Private Car)
Baby Chairs at the Restaurant
Bar Restaurant
6:30 AM – 10 PM Daily
Bathroom Amenities
toothbrush, toothpaste, shampoo, soap, slippers
Bike Rentals
at PHP 150/person (within resort)
Business Centre, Conference and Meeting venue
Complimentary Bottled Water

Fishing Area 

at PHP 150/rod/kg
Hot and cold shower

Toilet and bath
Bath amenities
Hair dryer
Coffee- and tea-making facilities
Guided Stand Up Paddleboard Tours
Kayak Rentals
Complimentary 4 PM Nature Tours
Indoor Massage
at PHP 650/person
Parking Area
Pool Bar
Pool Towels
River Boat Trips
River Sunbeds & Umbrellas
Riverside Restaurant
Room Service
Welcome Drinks upon arrival
Swimming Pool with Children's Area
Table Tennis
Wi-Fi Internet Access
Premier Collection
All accommodations that comprise our Premier Collection are found in the private wing of the resort. Here, guests will enjoy exclusive access to the Jungle Pool and Bar, Jungle Lounge. Turndown service on the first night is also provided.
Premier River View Room

79 sqm

2

2

The cozy ambience of this 79-sqm room is bound to make you feel at home. For how it's fully equipped with everything you can possibly need, the price for a night's stay when you book direct comes at a steal.

Inclusions:
• 1 king bed or 2 single beds
• River view veranda
• Mini-bar
• 49" LED TV with cable channels
• Spilt-type air-conditioning
• Turndown service on first night


Premier River View Room with Bathtub

79 sqm

2

1

This 79-sqm premier lodging features a blend of intuitive design and impeccable taste. Its veranda is fitted with a tub where you can relax while enjoying an unobstructed view of the river.

Inclusions:
• 1 king bed
• River view veranda
• Mini-bar
• Outdoor bath tub
• 49" LED TV with cable channels
• Spilt-type air-conditioning
• Turndown service on first night

Premier Family Room

81 sqm

4

2

With a total floor area of 81 sqm, this accommodation offer generous living spaces for your family to stretch out. Furnished with a spacious veranda, it is conveniently close to the pool and bar.

Inclusions:
• 2 queen beds
• Living room
• Veranda
• Sofa bed
• Dining area
• Mini-bar
• 49" LED TV with cable channels
• Board games
• Spilt-type air-conditioning
• Turndown service on first night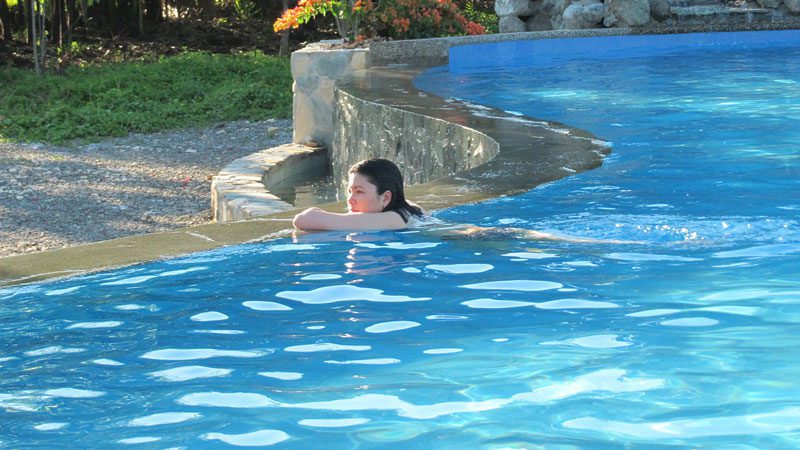 Native Collection
Our Native Collection has a variety of lodging options for whatever your requirements are. Our rooms and suites can house a couple, an entire family, or a large group of friends. Awash in calming earth tones, the interior of each accommodation delivers on space and understated elegance. Each of our Native Rooms has access to the Riverside Infinity Swimming Pool overlooking the Loboc River.
Frequently Asked Questions
What is the difference between Native Category and Premier Category?
We are a family of 2 Adults and 2 Children, which is the best room for us?
Native River Junior Suite and Premier Family Room has 2 Queen Beds and 1 Sofa that converts to 1 Double Bed, both rooms have a dining table area at the balcony, separate shower and toilet, suitable for families and groups. The rate is already inclusive of 4 persons. Alternatively, for a more budgeted stay, we also recommend any (2) of our Native or Premier Rooms that we can assign your rooms beside each other, some of these rooms can be converted to 2 Single Beds for the kids so you can have a combination of 1 King Bed on the other room for the parents. As always we'll be happy to assist you get the best deal. Message us!
What our guests love about our resort in Loboc, Bohol, Philippines!
Spacious King Bed and Private Balcony
Sumptuous Breakfast Meal Choices
Thoughtful Bathroom Amenities
Riverside Infinity Swimming Pool
Family-Friendly Excursions
Central Location for Countryside Tour
If you want a one-of-a-kind vacation that is totally different from the usual beach getaways, our Loboc river accommodation is the perfect place for you. Book direct online today and get instant confirmation.