Loboc River Resort
Bohol's Premier River Resort Destination
Bask in the picturesque view of Bohol's Loboc River as you enter Loboc River Resort, matched by our award-winning service, your stay at Loboc River Resort is a distinctly unique resort experience.
Loboc River Resort, has been recognized as one of the Top 10% of hotels worldwide with its TripAdvisor Travelers' Choice Award 2023, maintaining a tradition of yearly excellence recognitions since 2015.
A unique river resort experience awaits you in Bohol.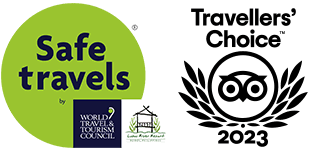 Alfresco Dining by the River
Enjoy sumptuous meals and refreshing drinks at Venia's Kitchen. Our charming restaurant is open-air and overlooking the river.
We provide reasonably priced a la carte menus that serve satisfying delicacies. Experience warm Filipino hospitality with our friendly and attentive staff. We strive to provide the best service to give our guests a delightful dining experience.
Lovely Views from your Room
The accommodations here at our Bohol river resort showcase the best views of the river and the forest. Our rooms and suites are supported by sturdy stilts and connected by quaint wooden bridges.
During the summer high tide season, enjoy a unique resort experience as water from the river pass through the hotel grounds, bringing in small fishes as it flows.
Easy Access to Tarsiers and Chocolate Hills
Loboc River Resort is central to the popular Chocolate Hills Countryside Tour of Bohol.
After enjoying Loboc's river cruises, floating restaurant, children's choir, and other attractions, you can proceed to other places that make Bohol a tourist paradise. The Tarsier Conservation Area, Chocolate Hills, Tagbilaran City are less than an hour's drive away. The lovely beaches of Panglao Island are also a short drive away from Loboc River Resort.
Enchanting SUP Tours
A unique river resort experience awaits you at Loboc River Resort in Bohol, Philippines. We are offering stand-up paddle boarding tours that are inclusive of meals, full gears, and instructor. Our assigned tour guides are well trained and they are familiar with the river because they are from the local community.
What Our Guests are Saying!
★★★★★
"
Family of 5 from the US spent 2 nights in Loboc, as part of week on Bohol.
The highlight is the river location, which provides immediate access to river cruises (which we did) and paddleboarding and fishing." – Perry S. from Brooklyn, New York (TripAdvisor, August 2022)
What Our Guests are Saying!
★★★★★
"Akong Balay sa Bohol! I was in awe the moment we set foot at Loboc River Resort. Being away from Philippines due to the pandemic, I crave for authenticity and that feel-at-home vibe. Lobor River Resort is the best place to experience both." – Beatrix Sia, July 2022 (TripAdvisor)
What Our Guests are Saying!
★★★★★
"I was looking for a place by the river and found the perfect one. The staff was very friendly; the food was really good, many options. Everything was just amazing. If you are looking for a peaceful and nature connection place, this is were you wanna be." – Ivette Teran, May 2022 (TripAdvisor)
What Our Guests are Saying!
★★★★★
"Photos just don't do this place justice! The room was HUGE, everything was very clean, and we used the large outdoor bathtub each day to relax on our porch and take in the view! The property is so well maintained and taken care of by the staff." – Allison Walter, June 2022 (TripAdvisor)
What Our Guests are Saying!
★★★★★
"Unique Hotel in Nature! A truly amazing place to stay. Unique river front villas with very natural surroundings. Two good sized pools and plenty of activities around. The food at the restaurant was very nice and well priced. Amazingly friendly staff especially at the reception area. On a clear night you can see fireflies around the resort." – Sarah, June 2022 (TripAdvisor)
Book Now, Pay Later
If you want a one-of-a-kind vacation that is totally different from the usual beach getaways, our Loboc river accommodation is the perfect place for you. Book direct online today and get instant confirmation.
Frequently Asked Questions
Updated as of June 2023
Do you offer transfers?
Yes, we offer transfers to Loboc River Resort (3-hour advanced reservation required). Kindly see our rate table:
| Location | 1-3 Guests (Car) | 4-6 Guests (AUV) | 7-10 Guests (Van) |
| --- | --- | --- | --- |
| Tagbilaran / Seaport | PHP 1,000 | PHP 1,100 | PHP 1,300 |
| Panglao / Airport | PHP 1,200 | PHP 1,500 | PHP 1,800 |
Please provide your exact location/flight/ferry details, time of arrival, and the total number of guests to (Facebook) www.m.me/lobocriverresort or (E-mail) lobocriverresort@yahoo.com or (Text) 0915 469 8515 / 0999 929 8119. The transfer fee is payable in cash to the driver upon arrival.
Bohol 2023 Travel Requirements
Bohol no longer require any entry requirements. (Updated as of March 2023)
Are your rooms open? Do you allow walk-ins?
Is your restaurant open? Do you allow walk-ins?
Yes, we are open from 8 AM - 9:30 PM daily. We recommend ordering online in advance for we might have promos: www.veniaskitchenbohol.com
We welcome you to try our LRR Halo Halo Delight with a choice of Tablea (Cacao), Coffee, and other ice cream flavors in season. For groups, we highly recommend our Signature Crispy Pata. For couples, try our Carbonara and Sizzling Native Beef.
Do you have Day Use of your Swimming Pool?
At the moment, our swimming pool is exclusive to prioritize our overnight guests. However, we have Day Tour activities such as Stand Up Paddleboarding, Firefly Boat Tours, River Boat Tours, and Kayaking, and our restaurant is open daily. Contact us at 0915 469 8515 (Frontdesk) for more information.
What activities do you offer?
Fishing
We welcome you to go fishing at Zynn's 'Zen' Island at ₱150/kg. You may have it cooked by our chefs.
Other Activities
Firefly Watching, Guided Stand Up Paddleboard Tours, Exclusive Boat Tours, and Massage are available. Just ask Front Desk.
Do you accept Credit Cards or other Online Payments?
Yes, we do. We also accept GCash payments.
Do you have Wi-Fi Internet Connection?
Yes, we are pleased to inform you that Wi-Fi can now reach all rooms and common facilities.