Loboc River Resort Activities
If you want to indulge in absolute peace amidst nature, there's no better place than ours. This Loboc accommodation features an impressive line-up of facilities for dining, recreation, and entertainment.
Loboc River Resort has a restaurant, pool bar, an outdoor night theater, and infinity pool. It also offers fishing, firefly watching, and stand-up paddleboarding.
Our lush surrounding has remained untouched for trekking, trailing, and bird watching.
Afternoon Activities
12:00 NN - Lunch at Venia's Kitchen Restaurant
1:00 PM - Rent a Bike around the Resort
2:00 PM - Have a Massage at your room our outdoor
3:00 PM - Rent a Kayak and Paddle Downstream
4:00 PM - Happy Hour (Buy One Take One Cocktails) until 7PM
4:30 PM - Join the Resort Orientation Tour (Chicken, Duck Feeding, Monkey Island Visit)
5:00 PM - Yoga and Tea  (in collaboration with Jing Yoga) at Zen Island (Saturdays Only)
6:00 PM - Have a Cappuccino at Venia's Kitchen Restaurant
Facilities for Day Tour Guests or Native Room Guests
Some activities may be subject to availability. Please message us for inquiries.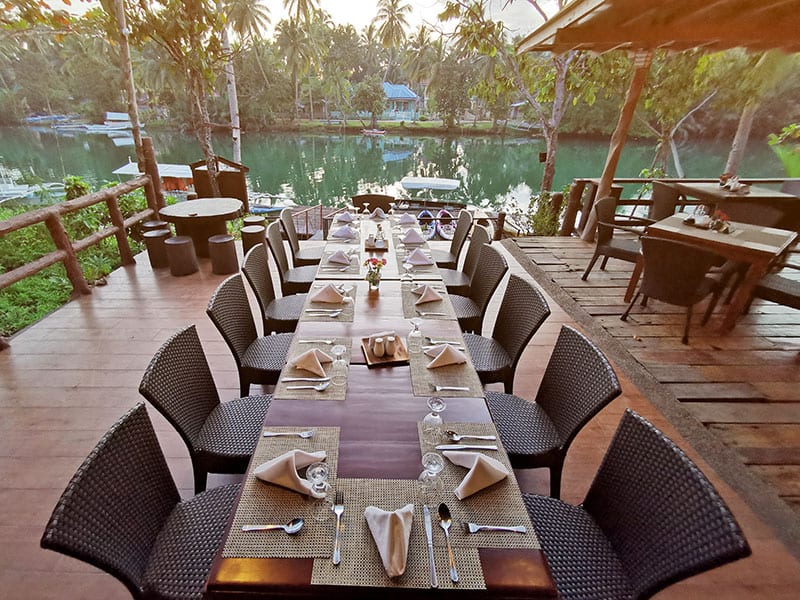 Venia's Kitchen Restaurant
Serves Filipino, Western, and Asian cuisines; houses the Espresso Cafe and Bar; open from 6:30 am to 9:30 pm (last order til 10pm).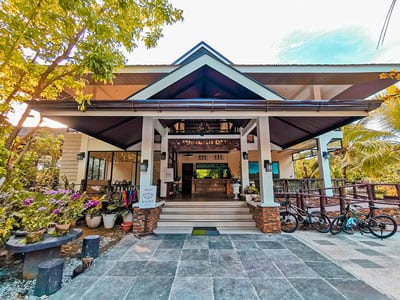 Front Desk
Offers tour and transfer assistance, laundry service, and more; provides information about things to do in and around Loboc/Bohol; open 24 hours.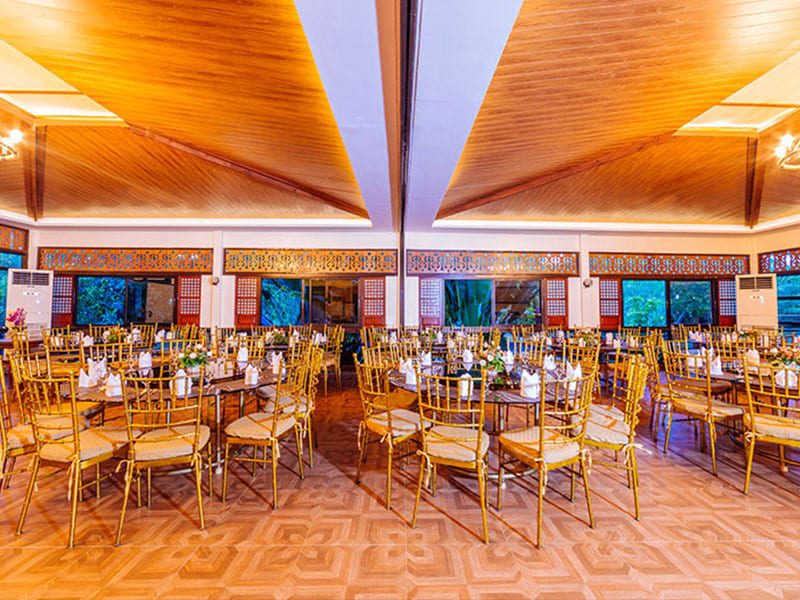 Venia's Function Hall
Can accommodate 50 to 150 persons in a round table banquet set-up; with a river-view veranda. For more details, visit our Events page.
Watersports Deck
For stand-up paddleboard tours, kayaking/canoeing, open-river fishing, firefly watching boat tour, and speedboat rental.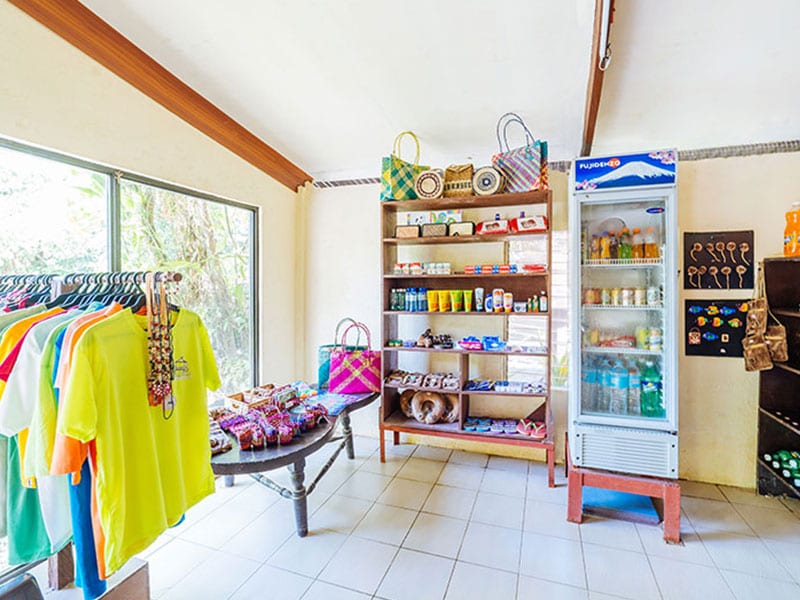 Sundry Shop
A stopover for refreshments, souvenirs (shirts, key chains, postcards), and other travel essentials.
Camayaan-Ugpong Hanging Bridge
A must-visit landmark connecting the towns of Camayaan and Ugpong; Currently under repair.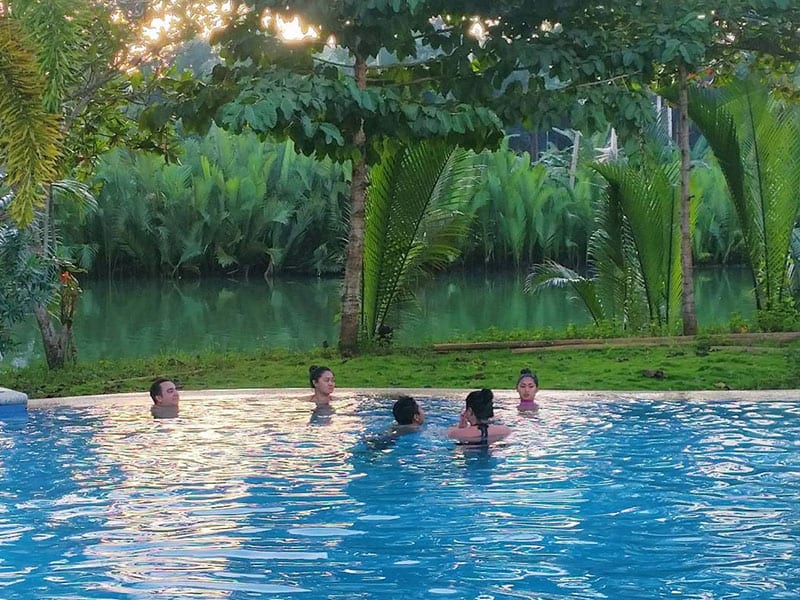 Infinity Swimming Pool
Open to both Premier Room and Native Room guests; with kiddie pool area; open from 8 am to 9 pm.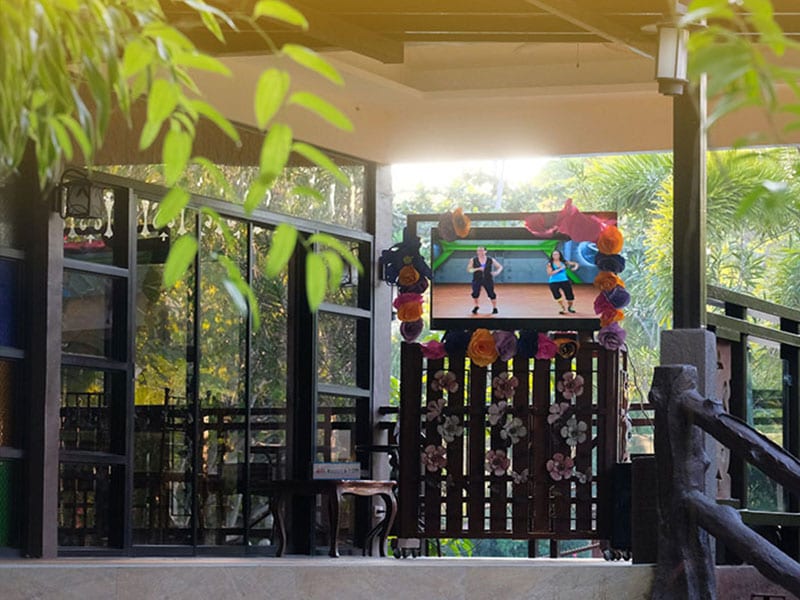 Zumba Area
Scheduled zumba session every 5 pm or upon request.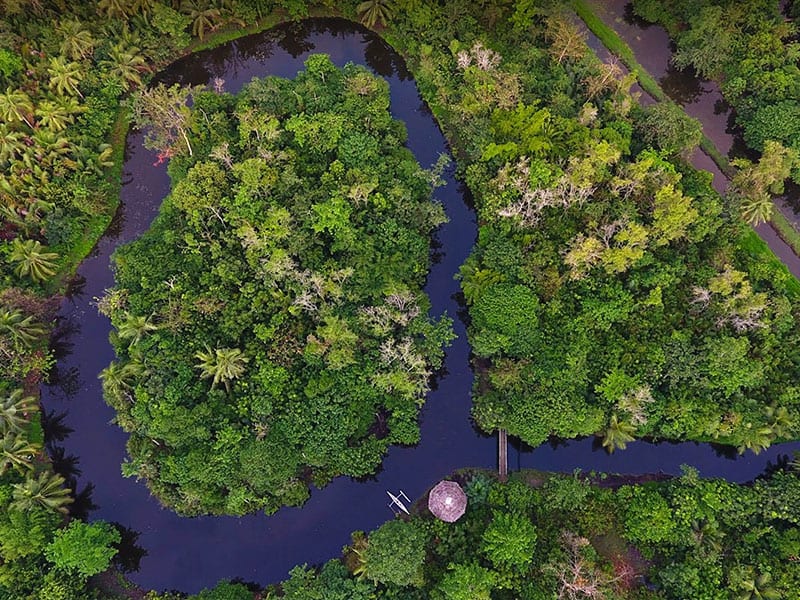 Monkey Island
Join the scheduled tours every 4 pm or rent a fishing rod and catch a tilapia or St. Peter's fish.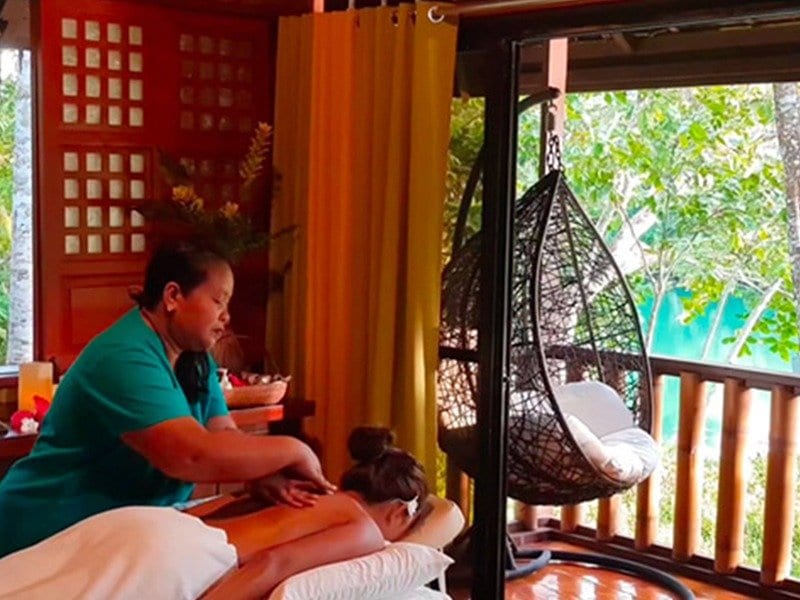 In-room Traditional Massage
On-call local massage or traditional "hilot". Avail an appointment at the Front Desk.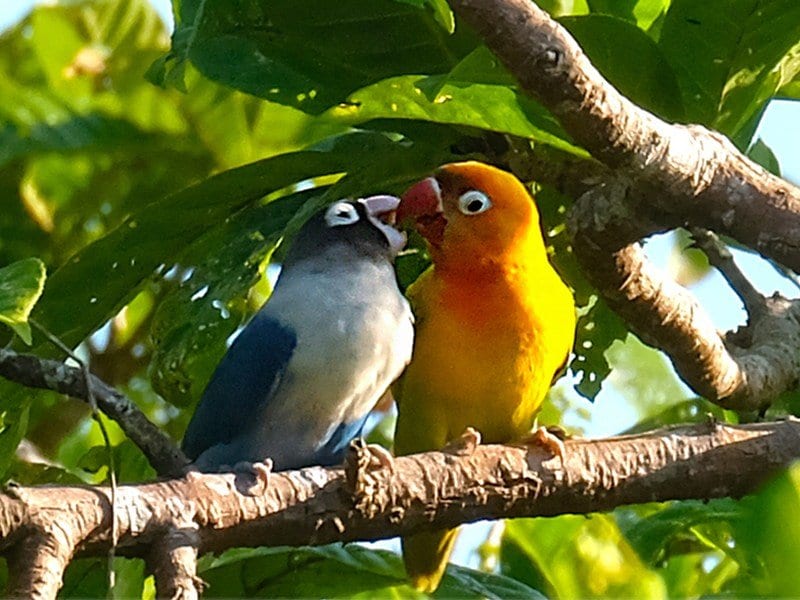 Trekking Path / Birding Area
Explore a 5-hectare route for trekking and biking; we offer complimentary bike rental within the resort grounds.
Outdoor Night Theater
Take the family to a complimentary family-friendly movie every 8 pm on Saturdays at the infinity swimming pool area; subject to availability.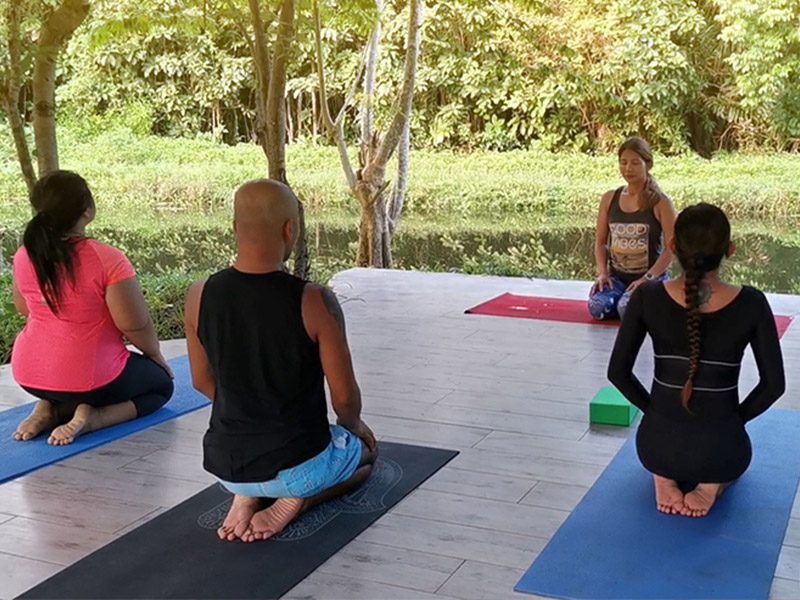 Yoga at Zen Island
Book various types of classes such as Vinyasa Yoga, Hatha, Yin, Ashtanga Vinyasa, breath work & Meditation, Sound bath, and more; in collaboration with Jing Yoga. (*advanced schedule required) For inquiries: www.m.me/lobocriverresort
Facilities for Premier Room Guests
Due to room blocking restrictions. Premier Rooms may be subject to availability. Please message us for inquiries.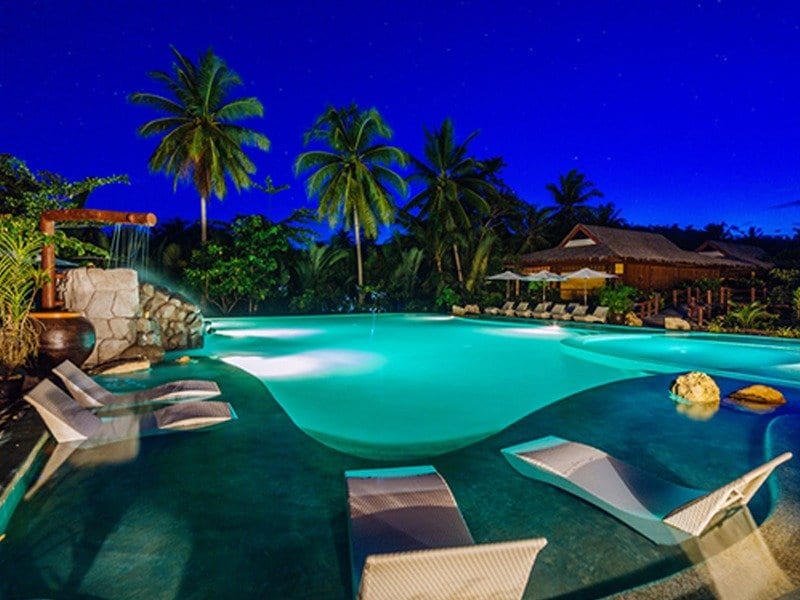 Jungle Swimming Pool
For Premier Room guests only; with kiddie pool and lounge areas; open from 8 am to 9 pm.
Jungle Pool Bar
For Premier Room guests only; subject to availability.
Evening Turndown Service
Scheduled turndown service every 6 to 7 pm to ensure a restful sleep.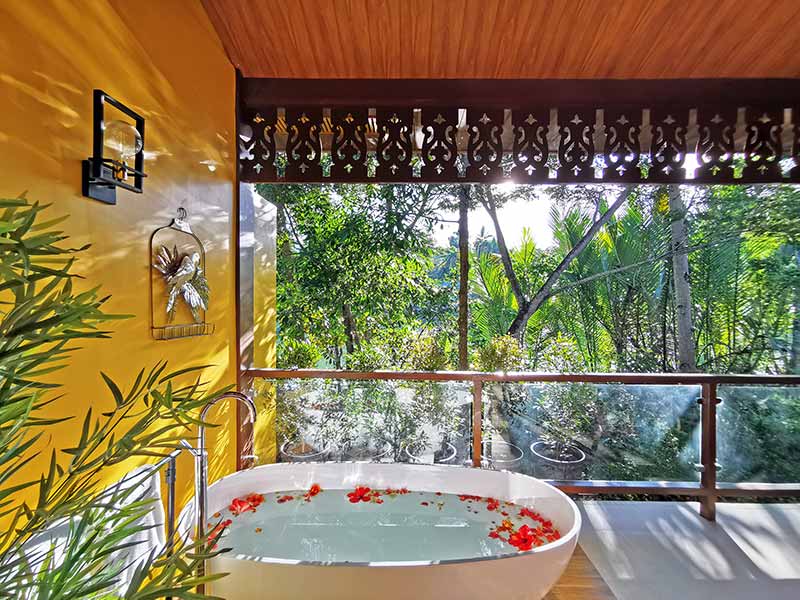 Upgraded Premium Amenities
Upscale bath amenities and room furnishings to ensure the best value for your stay.
Special Menu
Food and beverage choices exclusively available at the Jungle Pool Bar.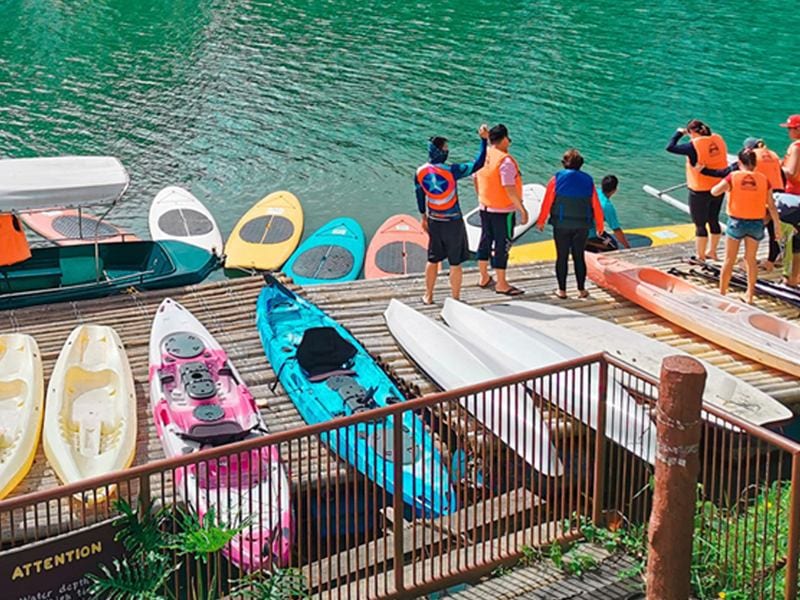 Exclusive Discounts
Complimentary 1-hour kayak rental, Loboc accommodation rewards, and more.
If you want a one-of-a-kind vacation that is totally different from the usual beach getaways, our Loboc river accommodation is the perfect place for you. Book direct online today and get instant confirmation.