Which is better in the 2 Queen Beds category? Native River Junior Suite or Premier Family Room? We have gathered reviews and opinions from previous guests and expert travelers to help you decide between these new room types.
What's the difference between Native and Premier?
Premier rooms are built with more modern concrete interiors, while Native rooms furnished with wood and light materials. Premier rooms have superior access to resort amenities, with two swimming pools and a more exclusive pool bar if you wish to escape from the crowd.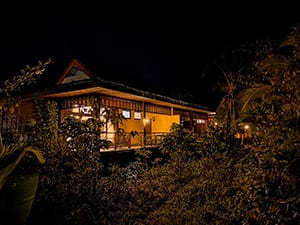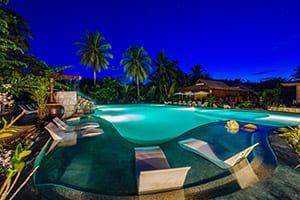 Room Size Difference
There's an easy difference of 20 sqm here with Native River Junior Suite's 61 sqm of space vs. Premier Family Room's 81 sqm. The Premier Family Room benefit is that when you book two of these rooms, you get 162 sqm with an adjoining door at the balcony.
Bed Difference
While they may not be as spacious as single King Beds from the other room types, both rooms have 2 Queen Beds perfect for long-stay families and groups looking for a Bohol accommodation.
General Amenities
Both units, aside from the lower category room types, have a split-type air-condition, split-shower and toilet, dining area in the balcony, bigger 49″ cable LED TV, and premium bathroom amenities.
Complimentary Amenities
Complimentary Boardgames, you can't go wrong with board games with the family or with friends at the Premier Family Room balcony dining area. Both rooms boast a dining area and a minibar.
"I love the View."
The Native River Junior Suite easily wins this category since it's the unique single room type in the property nearest the Camayaan Hanging Bridge. This room is available only when you book directly on the Official Website or AirBnB (yes, this room is on Airbnb!).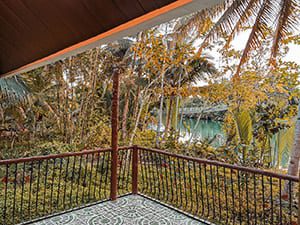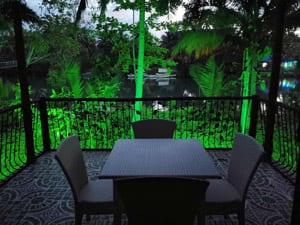 Premium Amenities
While the Native River Junior Suite guests only have access to the Infinity Swimming Pool and Main Restaurant, the Premier Family Room guests have access to the other pool (exclusive Jungle Swimming Pool and Bar). The Premier Family Room also has a turndown service with complimentary delightful evening bites for a restful sleep.
The Verdict
While the Native River Junior Suite has a price point difference lower than ₱2,000+ from the Premier Family Room. If we were to choose, we'd easily select the Native suite, but it's only one room in its category and mostly fully booked.
---
Special Rates for Advanced Long Stay!
Quantity is a price point consideration at Loboc River Resort. Since these rooms and suites are limited, it has more demand and quickly booked. However, Loboc River Resort offers special rates for advanced or group bookings if you message them.
Check out current promos: lobocriverresort.com/offers
Check availability and prices: lobocriverresort.com/reservation