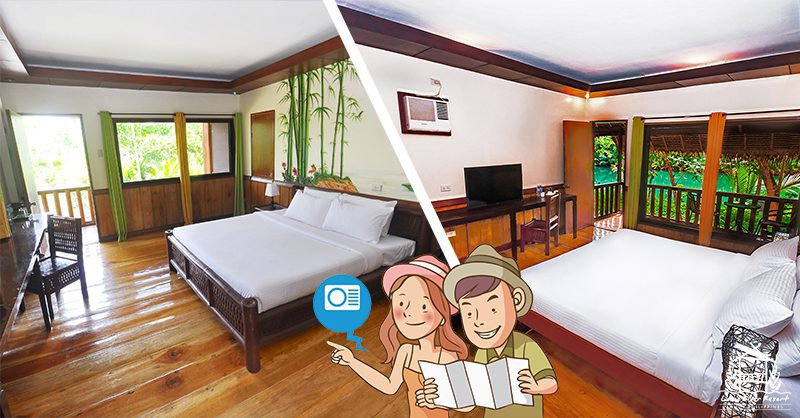 What is the difference between the Native Forest View Room and the Native River View Room? We have gathered reviews and opinions from previous guests and expert travelers to help you decide between these renovated classics.
Both rooms may be similar in size and structure, both equipped with a private balcony, but with a different view, each of these rooms caters to a unique feature and market.
Room Size Difference
The Native River View Room offers a stretch of 46 sqm vs. a more spacious 49 sqm Native Forest View Room, which can cater to families or groups while the Native River View Room for couples who would like a more serene view of the river.
Bed Difference
Nothing much, if you're into the nitty gritty, both rooms have a choice of 2 Single Beds or 1 spacious King Bed (which was formerly a Queen Sized Bed before they renovated). There are only few hotels in Bohol that has a King Bed and a superb quality threadcount, Loboc River Resort is one of them.
General Amenities
Both rooms have an airconditioning system, hot and cold shower, cable LED TV, and complete bathroom amenities (from hairdryers, towels, toothbrush, toothpaste, soap, shampoo, conditioner, and even reusable pair of slippers) in case you forget your essentials.
Complimentary Amenities
Both rooms also include complimentary bottled water, a kettle, and coffee and tea amenities perfect for preparing a cup of joe or tea. At the same time, you observe the birds flock to the garden or trees in your private balcony while preparing for a quick jog in the 5-hectare trekking path.
The River View Room
The Native River View Room has the best view without a doubt; it's close enough to the river where you can sit down in your private balcony and see boats pass by. Just leaving your windows open as you wake up to a beautiful river view, that's one thing even a 5-star swimming pool view hotel room can't surpass.
The Forest View Room
Located at the East just across the river view rooms; here, you can enjoy the sunrise with a quiet view of the natural foliage the resort offers; this is the best room to see birds in your balcony in the early morning. While the river view room has a better view, this one has the best value considering breakfast, dining, and swimming activities are located by the river.
Common Amenities
Both these rooms have access to the Infinity Swimming Pool and Main Restaurant while restricted to the Premier Jungle Swimming Pool and Bar exclusive to Premier Room Guests.
The Verdict
Both rooms with a close price range serve different features and markets. If you're looking to wake up to a view of boats passing by, choose the Native River View Room. If you're looking for space, choose the Native Forest View Room.
---
Check out more promos: lobocriverresort.com/offers
Check availability and prices: lobocriverresort.com/reservation